General
MicroSIP can work with and without VoIP provider / SIP server. Second case uses more widely.
MicroSIP always starts minimized in tray. Right click on tray icon lets you access account and application settings.
MicroSIP not requires any preinstalled codecs, all codecs already included.
Dialpad
Used to enter numbers with mouse or sending DTMF signals. Also you can enter number with physical keyboard, in this case you can enter letters, specify custom domain and port. Examples: 13455674657, buddy,
[email protected]
,
[email protected]
:5043,
[email protected]
, sip:192.168.1.55, etc.
Contacts
To add contact right click on blank area. Contact number can be in any format, see examples in Dialpad.
If you enable "Presence subscription" MicroSIP will send on SIP server the subscribe query for contact presence. Your SIP server must support this feature.
"Presence subscription" allows to use BLF functionality - pickup incomings calls of other users. How BLF works in MicroSIP:
Users must enable "Publish presence" in Account window.
You must enable "Presence subscription" for users in your Contacts.
After that, users in your Contacts become colored. If they still grey - configure your SIP server (PBX).
When user from your Contacts will have incoming call, it will blink (green blinking icon). To accept incoming call, double click it or right click and use context menu - "Call pickup". Pickup code used in MicroSIP is "**" and currently cannot be changed.
User colors: green - online, red - offline, yellow - active call, green blinking - incoming call.
Calls/Messages
Allows you to make calls and exchange with instant messages with remote party. To close tab page right click on tab.
Account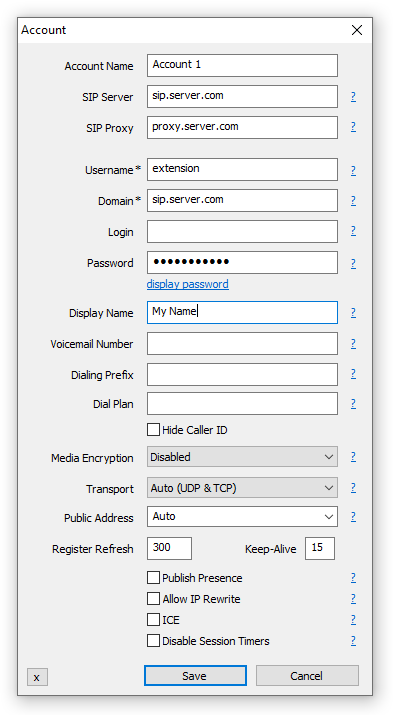 Settings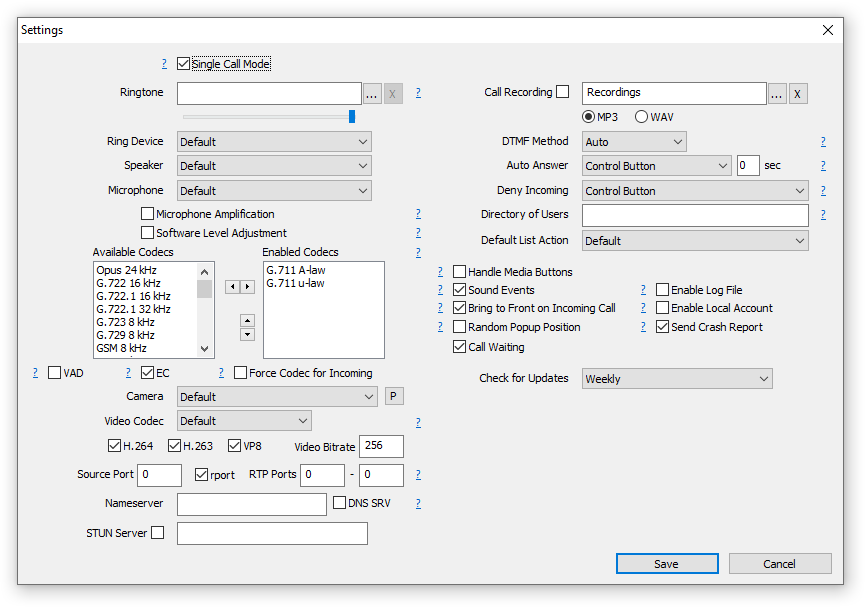 Settings not included in Settings dialog
You need to modify microsip.ini manually.
"sourcePort=5060" - use static source port of outgoing SIP requests (UDP transport only).
"cmdCallStart" - runs specified command when connection established. Caller ID passed as parameter.
"cmdCallEnd" - runs specified command when call ended. Caller ID passed as parameter.
"cmdIncomingCall" - runs specified command when incoming call arrives. Caller ID passed as parameter.
"cmdCallAnswer" - runs specified command when user answers on incoming call. Caller ID passed as parameter.
"autoHangUpTime"
"maxConcurrentCalls"
"noResize"
Port knocker feature. Send sequential UDP requests to a specified ports on a specific host (SIP server by default) before microsip tries the SIP registration. That allows SIP server to whitelist cliend IP in the firewall.
"portKnockerHost=host.com" - domain name or IP address of knocking host. If empty and port list isn't empty - SIP server value will be used.
"portKnockerPorts=1111,2222" - one or more ports separated by comma. If empty - feature disabled.
DTMF
While you are in call you can press buttons on dialpad to send DTMF signals. If you want automatically pass DTMF commands just after call established, then add ",dtmf_sequence" or ",dtmf_sequence1,dtmf_sequence2" in calling number. One comma means pause in one second.
Video
Supported H.264 and H.263+ (other name H.263-1998) video codecs. Default codec - H.264, video format - 640x480 @ 30 fps, outgoing bitrate 512 kbit/s. H.264 encoding requires significant CPU resourse. Recommended dual core processor, multimedia extensions like MMX will be used if is present.
Video capture and video rendering uses DirectX and Direct3D (with hardware acceleration).
Because hardware acceleration is used, video calls will not work with remote desktop session (RDP).
If you have serious problems with performance:
- update video adapter drivers
- install/reinstall DirectX (can be
downloaded here
)
Command line
Call a number: microsip.exe number
Hang up all calls: microsip.exe /hangupall
Answer a call: microsip.exe /answer
Start minimized: microsip.exe /minimized
Exit: microsip.exe /exit
Remarks
Remark 1
This feature increases UDP packet size (SDP message length of INVITE query). If UDP packet size will be > 1500 bytes (MTU), it will be fragmented. Not all routers can correctly work with fragmented UDP packets. So, if you enable extra feature like SRTP, or ICE, or select too many enabled codecs, or make video call, be ready that you will not be able make a call. Best exits from situation - use TCP or TLS transport, but in this case your SIP server must support it.